Vintage Doll Cosmetics
Audrey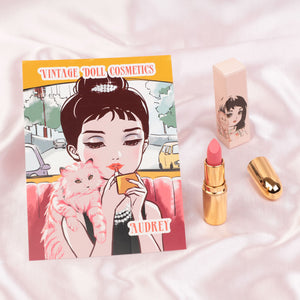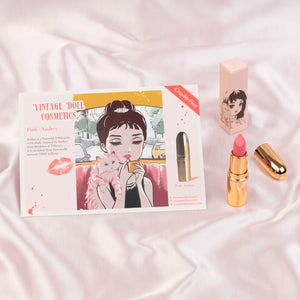 Lovely Audrey Lipstick
This is such a gorgeous lipstick which really does resemble Audrey's lipstick from the 1960's. I have had a comment from an older lady that it is identical to a colour she used to use in the 1960's. As far as it's longevity goes, it stays on the lips for ages.
CLASSIC HOLLYWOOD
I've purchased the AUDREY & SHARON LIPSTICKS 💄 it's that perfect color that's hard to find .Also the VERONICA EYESHADOW PALETTE , beautiful colors to use alone or mix a few together. PERFECT CUSTOMER SERVICE & I'm very happy I found this classic gem 💎
The search is over!
I've been looking for this exact shade ever since I saw 'Holly' applying it in Breakfast at Tiffany's. Loved my Audrey lipstick!
Wow !
I cannot stop using this luxurious lipstick it's so flattering and feels dreamy. Thank you so much for creating this unique colour. I would have liked the holder to feel more weighty but it's a small thing - the bullet shape is just perfect - thank you! Totally recommended ❣️
Even Better in Person
I gave this to a pale, warm-toned friend who looked so stunning in it I bought one for myself. I am a cool winter with very pale skin and it looks great on me too. Feels smooth and has good lasting power. I've looked for this shade for a long time! Will repurchase.